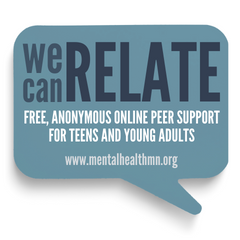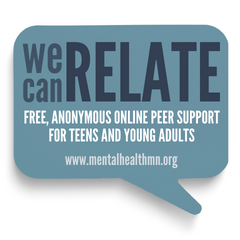 Are you looking for support? Do you need someone to chat with?
We know what it's like to struggle with your mental health and are here to RELATE!
The RELATE: Youth Peer Support Chat is safe, anonymous, confidential, free, and here to chat when you need it.
The chat is initially open starting May 2nd, 2022, and will be open Monday-Thursday, 3 PM to 9 PM. Simply enter the chat box on this page!
Trying to talk outside of 3 PM to 9 PM? No problem! The Minnesota Warmline is open from 12 PM to 10 PM Monday through Saturday.
Need information or resources? Our Mental Health Helpline is available to help locate resources from 9 AM to 5 PM Monday through Friday.
In a crisis? Please contact the National Suicide Prevention Hotline at 1-800-273-8255 to be connected to a crisis center, or reach the Crisis Textline by texting "MN" to 741741.
The RELATE service is separate from the Minnesota Warmline. The RELATE online chat service is designed to give a younger audience somewhere they can come to relate to a peer with similar lived experiences. Chats are answered by our team of trained peer volunteers, who are individuals between the ages of 18 and 25 who are willing to share their lived experiences with mental health and who have been trained in QPR (Question, Persuade, Refer). Volunteers are also required to review peer support training materials provided by Mental Health Minnesota.