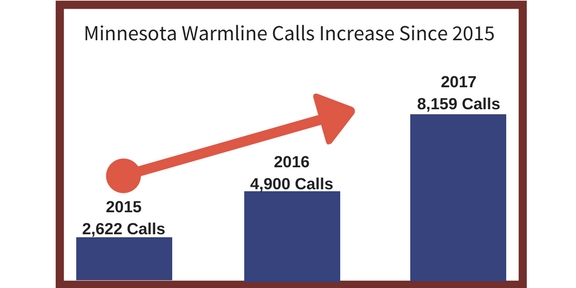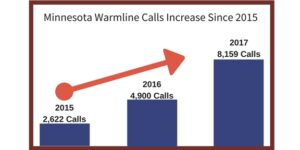 Calls to the Minnesota Warmline reached a record high in 2017, with more than 8,000 calls during the year. The total reflects a 67% increase in the number of calls over the previous year. Since 2015, the number of calls to the Warmline has increased by more than 200%.
"Mental Health Minnesota took over the Warmline in 2015, and we have seen a significant increase in calls since that time," said Shannah Mulvihill, executive director. "We are really pleased that so many people are able to use the peer-to-peer approach offered through our Warmline to connect and support their mental health recovery."
A number of other changes were made to the Minnesota Warmline in 2017 to improve the service, including adding a call "queue" to enable callers to wait to talk with a Certified Peer Specialist (rather than calling back later if the lines were busy) and providing a texting option for people to use in addition to the traditional phone line.
The Minnesota Warmline also added a functionality within the phone system in 2017 that enables operators to provide a "warm hand-off" from the Warmline to county crisis lines.
"We see the Minnesota Warmline as an important part of the continuum of mental health services available to people across Minnesota," said Mulvihill. "The 'warm hand-off' functionality allows our staff to ensure that a person calling the warmline can get the level of help they need, when they need it."
The Minnesota Warmline takes calls from across the state of Minnesota, and is largely supported by the Minnesota Department of Human Services. In 2017, people called the Warmline from 74 counties across Minnesota.
The Minnesota Warmline provides a peer-to-peer approach to mental health recovery, support and wellness. Calls are answered by a team of professionally trained Certified Peer Specialists, who have first hand experience living with a mental health condition and receive ongoing training and support. The Minnesota Warmline is open Monday through Saturday, 5 PM to 10 PM, and can be reached by calling 651.288.0400 or 877.404.3190 or by texting "support" to 85511.