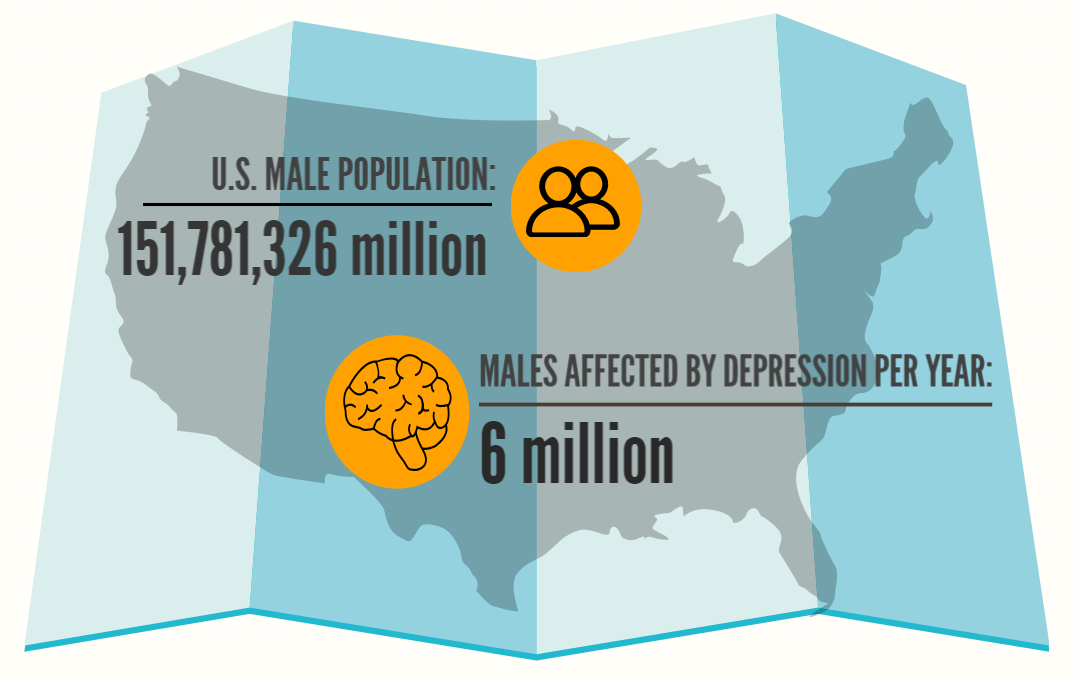 Meet Rick. He is a 49-year-old man living with depression. For years he has suffered in silence. He is not unlike many men who silently live with mental illness and do not reach out to ask for help. Recently, Rick reached out to Mental Health Minnesota. He wasn't sure what he needed. He just needed the pain to stop. This simple but important step – reaching out – led Rick to the road to recovery and finally some relief.
I was able to direct Rick to the Face It Foundation located in the Twin Cities. This organization is dedicated to men's mental health recovery. They offer support groups, one-on-one peer support, activities and an online chat. The foundation gives men the support they need to face depression and take control of their recovery. Rick called me back a few months later empowered by finally opening the door to treatment and support.
Which mental illnesses most commonly affect men?
Depression and anxiety disorders are the most commonly diagnosed mental illnesses among adults in the U.S. Among men, depression is the most common mental illness – over 6 million men are affected by depression each year in the U.S.
More than four times as many men than women die by suicide in the U.S. Suicide is the seventh leading cause of death among men – over 35,000 men die by suicide in the U.S. each year. Risk factors can include social isolation, substance abuse, unemployment, trauma, and genetic predisposition. Research has also found that men are less likely than women to seek help for depression, substance abuse and stressful life events due to social norms, a reluctance to talk, and a tendency to downplay symptoms. (Source: Mental Health America)
While depression is the most common mental illness among men, it is important to remember that men can be affected by any mental health diagnosis. Over one million men in the U.S. are affected by bipolar disorder. Approximately one in five men develop alcohol dependency at some point in their lifetime.  You can read about the signs, symptoms, and prevalence of different mental health diagnoses here. If you are concerned about your mental health, taking an online screening is one of the first steps you can take to start getting help. Take our anonymous, online screening here.
Where can I find support if I'm struggling with my mental health, or if someone I love is struggling with their mental health?
The National Suicide Prevention Lifeline is available 24/7 and provides free and confidential support and crisis resources for people in distress. It can be reached by calling 1-800-273-8255.
Additionally, every county in Minnesota has a 24/7 crisis phone line. You can find your county's crisis phone line here. Anyone in Minnesota can reach the Crisis Text Line and text with a crisis counselor by texting "MN" to 741741.
I live in a rural area and am having trouble finding mental health support. What can I do?
Minnesota has a farm and rural helpline that is available to farmers and rural residents. The helpline is funded by the Minnesota Department of Agriculture and is free, confidential, and open 24/7. Counselors who answer calls are specifically trained to provide support to address the unique stresses that farmers and rural communities face. The helpline can be reached toll free at 833-600-2670.
Are there resources specifically available for men?
The Face It Foundation, where Rick found support, connects men with other men who have experienced living with a mental illness. They offer support groups, group activities, and an online support network.
Psychology Today has a search engine where you can search for therapists, psychiatrists, and support groups. You can filter your search using wide variety of key words, including men's health.
Are there resources available for men in the LGBTQ community?
The Minnesota LGBTQ Directory is a website where you can search for providers who currently serve LGBTQ people, have knowledge of LGBTQ health disparities, and provide competent care to LGBTQ people.
The Trans Lifeline is a hotline dedicated to the well-being of transgender people. The Trans Lifeline can be reached at 877-565-8860.
If you are having trouble getting connected with resources and services, please call Mental Health Minnesota and ask to speak with a Peer Advocate.