We are proud to celebrate BIPOC Mental Health Month this July as we come together to highlight this year's theme "Strength in Communities." This month we explore alternative mental health supports created by BIPOC and queer and trans-BIPOC (QTBIPOC) communities of color.
These community-developed systems of support fill gaps within mainstream healthcare systems: community care, self-directed care, and culturally-based practices. We'll explore why these types of care are valid and valuable choices people can make for their mental health.
We are all unique individuals and communities so it is important that we address our specific needs when it comes to mental health. There is no universal or one-size-fits-all practice.
---
Community care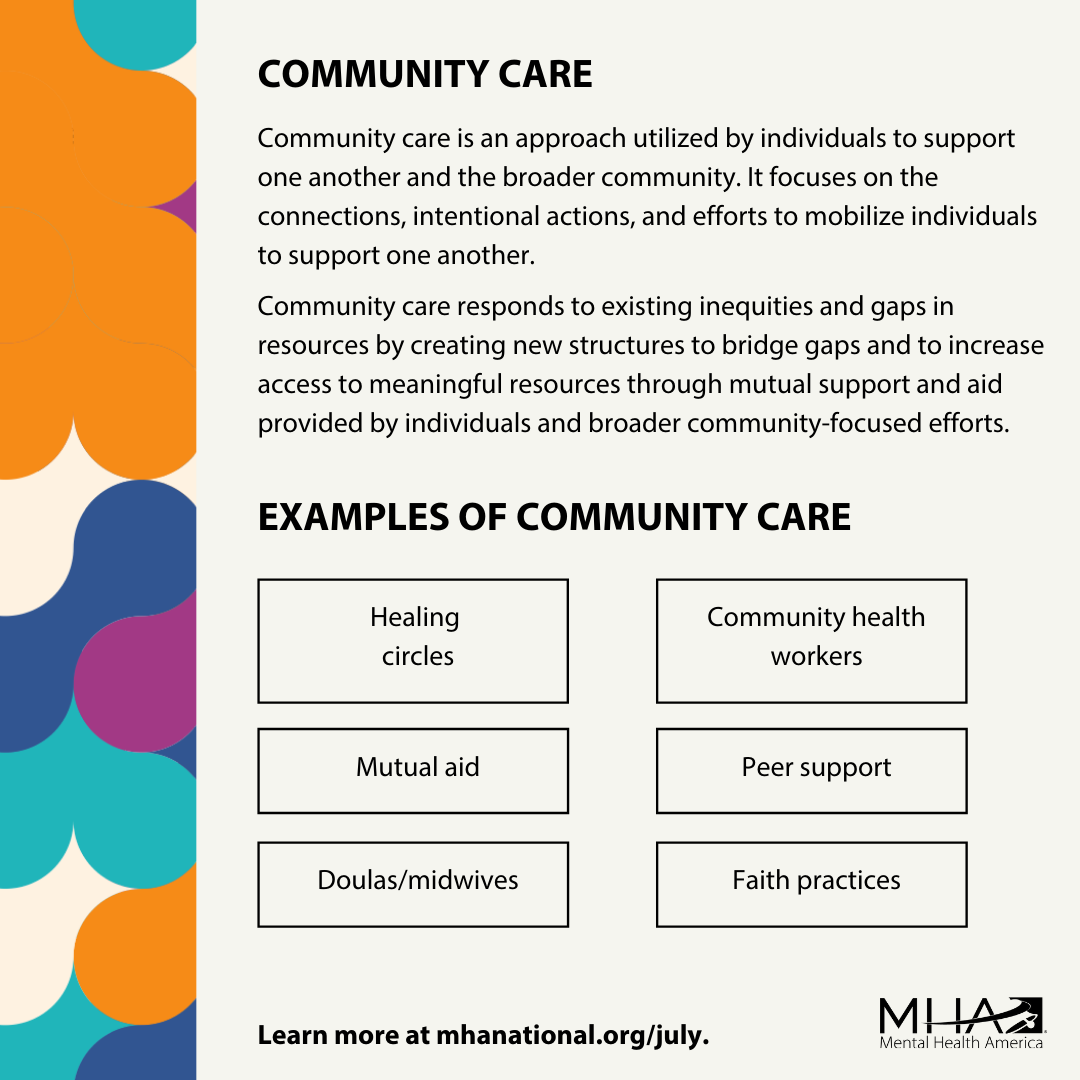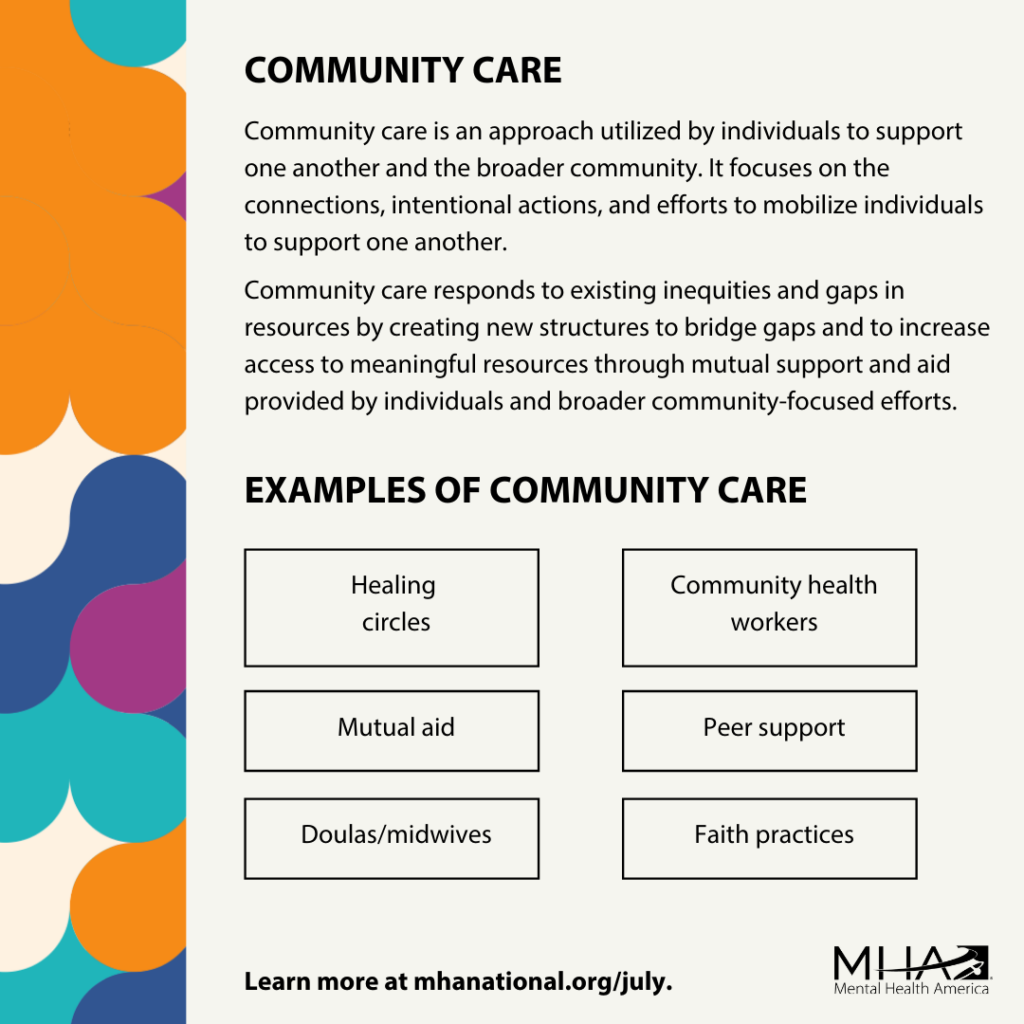 Community care is an approach used by individuals to support one another and the broader community. For BIPOC and QTBIPOC communities, it can be hard to find mental health care that respects and caters to their needs. In an effort to help provide care for these individuals who may have not found mental health support, communities are creating spaces on their own. These spaces provide healing within communities that understand them better, and the well-being of the individual is intrinsically tied to the well-being of others, including the larger community. Community care focuses on the connections, intentional actions, and efforts to mobilize individuals to support one another.
As a result, community care responds to existing inequities and gaps in resources by creating new structures to bridge gaps and to increase access to meaningful resources through mutual support and aid provided by individuals and broader community-focused efforts.
Examples of community care include Peer Support, which refers to someone who shares the experience of living with a mental health condition or substance use disorder. The peer-to-peer approach is important to mental health recovery and wellness, and that's why we have certified peer specialists who run our Minnesota Warmline.

---
Self-directed care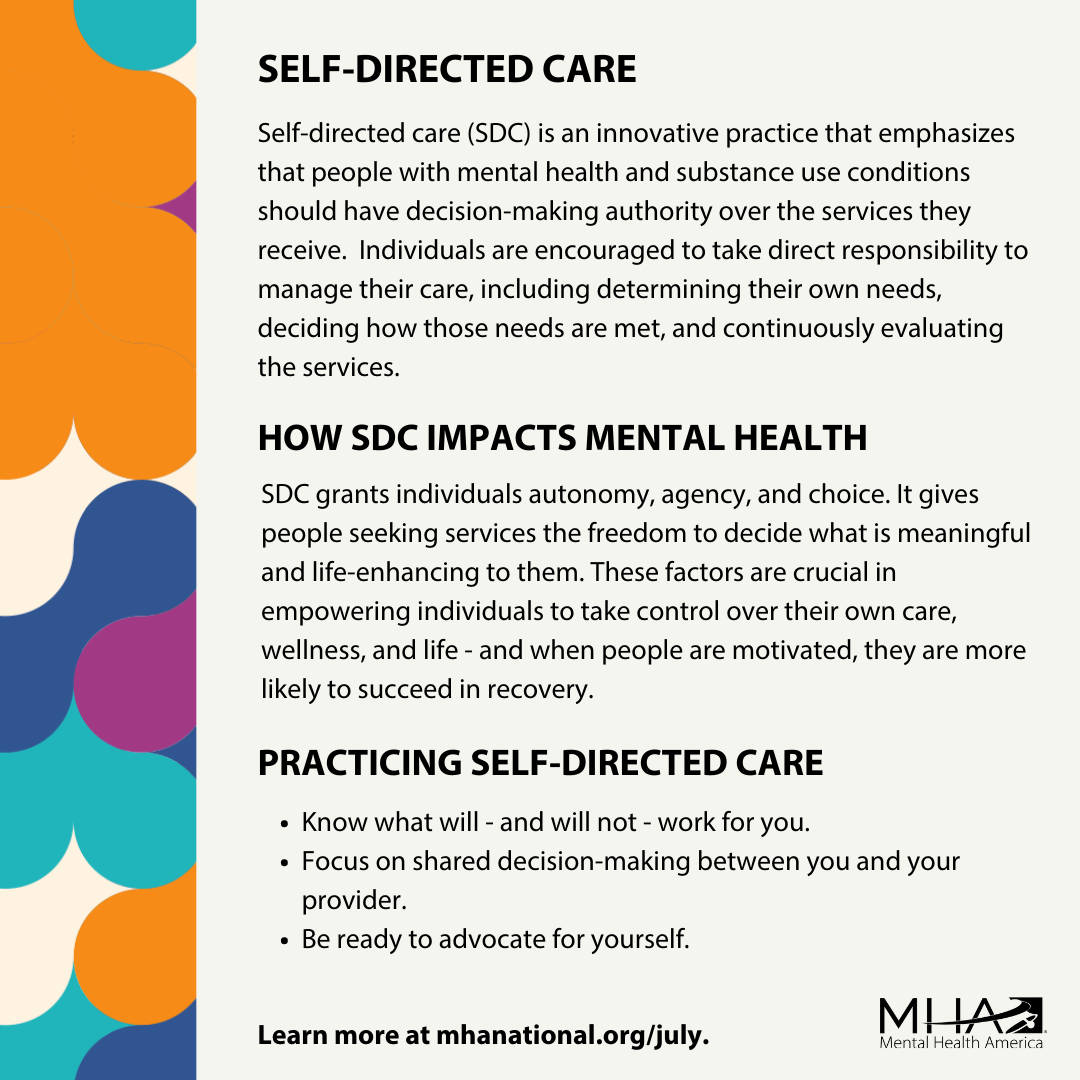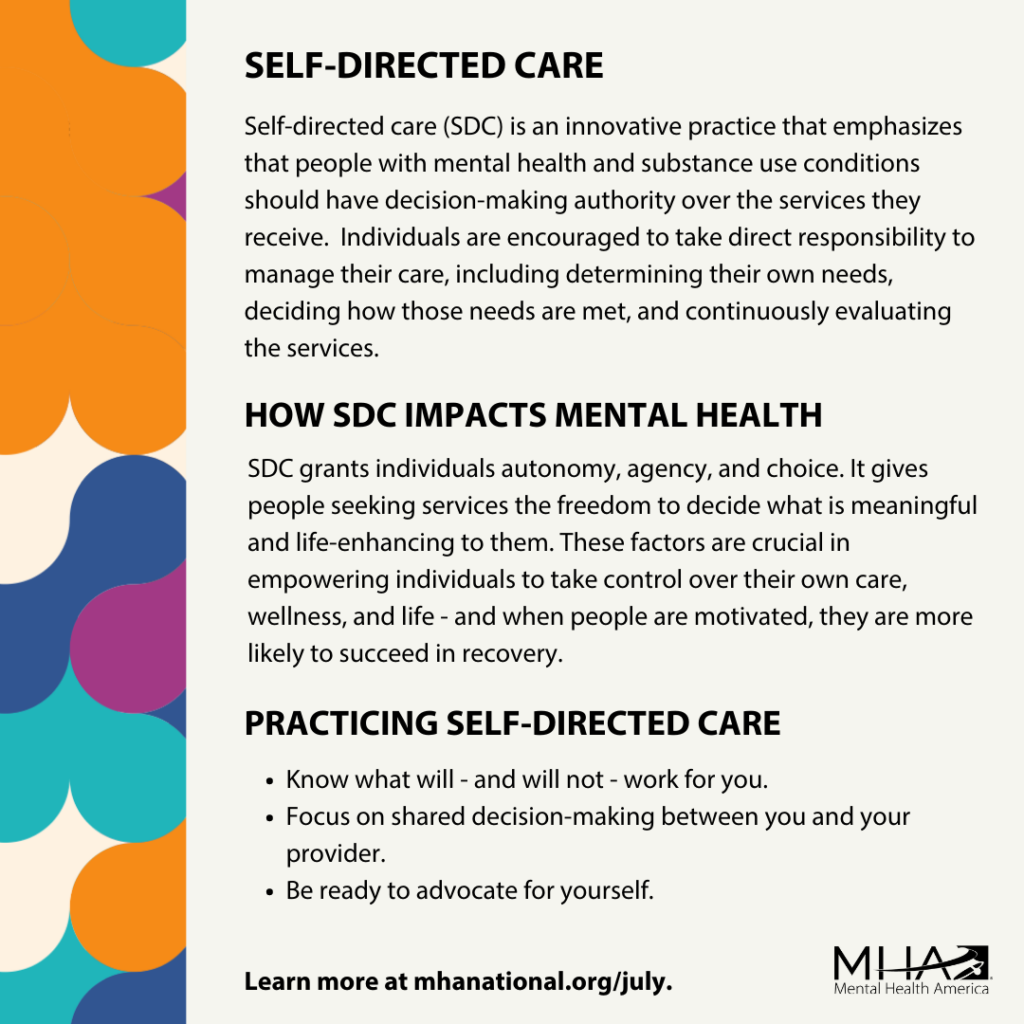 Self-directed care (SDC) is an innovative practice that emphasizes that people with mental health and substance use conditions should have decision-making authority over the services they receive. Individuals are encouraged to take direct responsibility to manage their care, including determining their own needs, deciding how those needs are met, and continuously evaluating the services.
The way people talk about and experience mental health is uniquely shaped by their racial/ethnic backgrounds and cultural experiences. Because SDC gives the individual seeking services the power to decide what works best for them, it allows people from marginalized communities to determine their own priorities in recovery and move beyond traditional systems of care, which weren't originally designed with them in mind.
Our Mental Health Helpline can be your first source of SDC. Reach out via our online chat or by phone to get connected to information about mental health programs and services that might help you or a loved one.
---
Culturally-based practices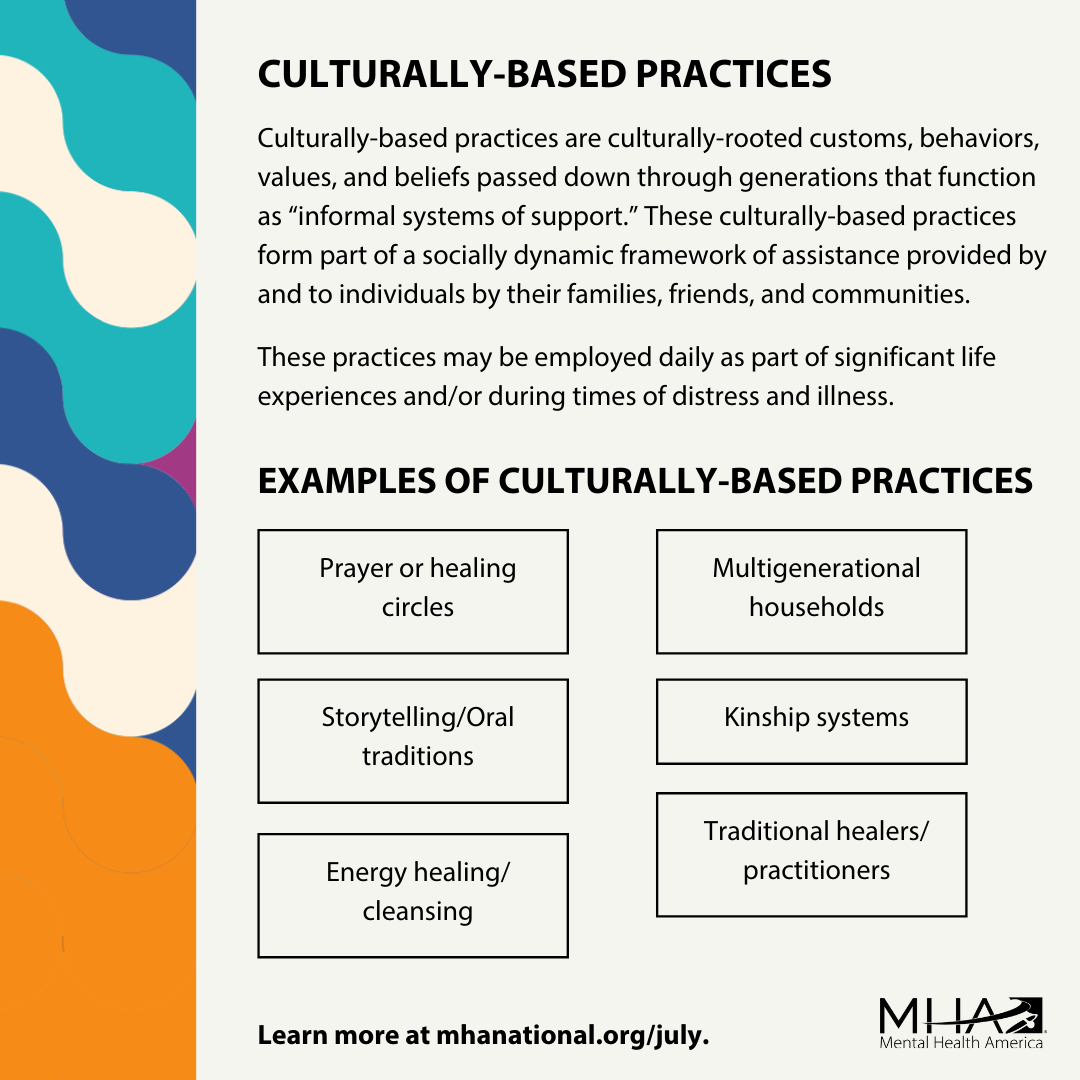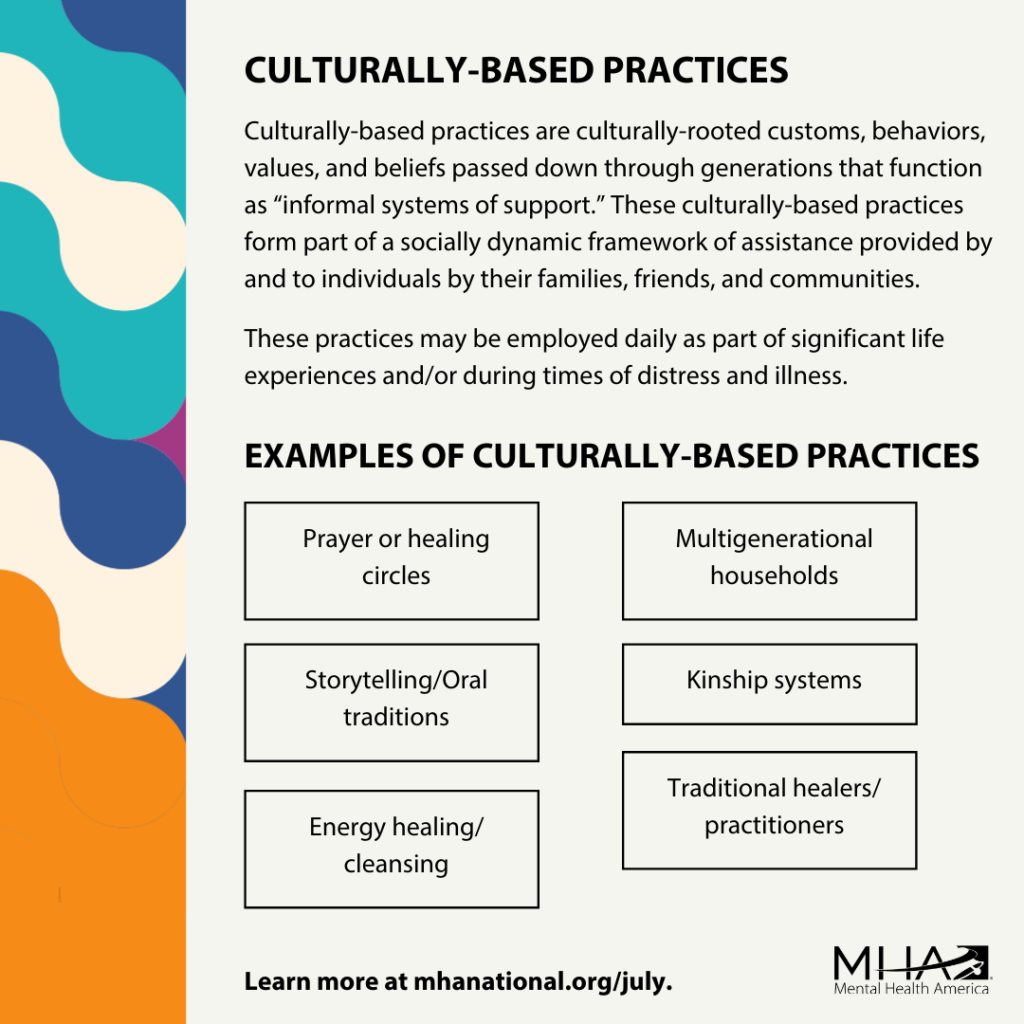 Culturally-based practices are culturally-rooted customs, behaviors, values, and beliefs passed down through generations that function as "informal systems of support." These culturally-based practices form part of a socially dynamic framework of assistance provided by and to individuals by their families, friends, and communities.
For generations, culturally-based practices have been erased, set aside, hidden away, or utilized in secret.
However, it is important to shed light on and engage in culturally-based practices in order to heal. By learning about and embracing culturally-based practices, individuals and communities can begin the process of understanding the impacts of historical trauma, reclaiming the honor and pride of their ancestors, their historical knowledge, and the power that exists in connecting with one's community through shared values, beliefs, and customs.
Source: Mental Health America
---
BIPOC Resources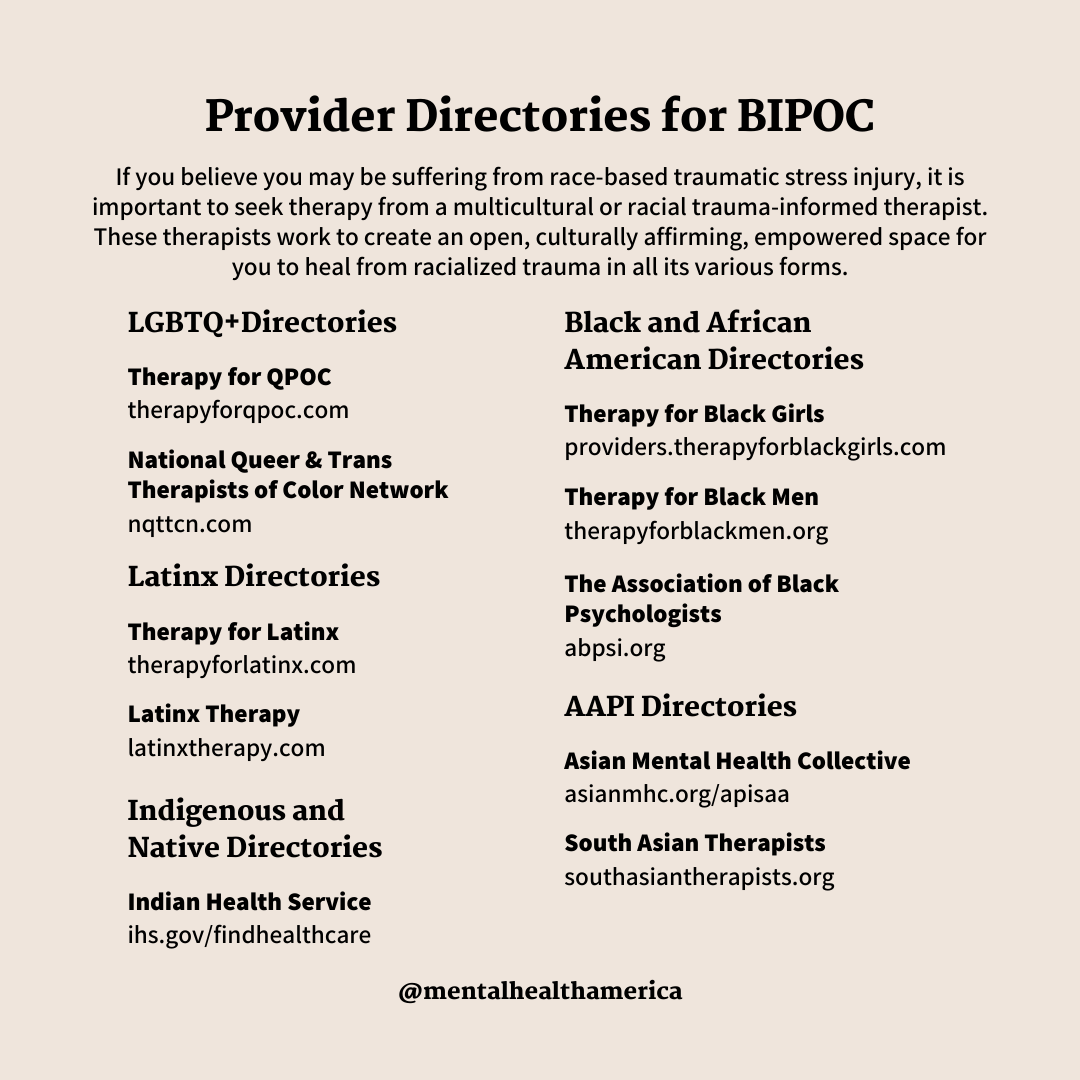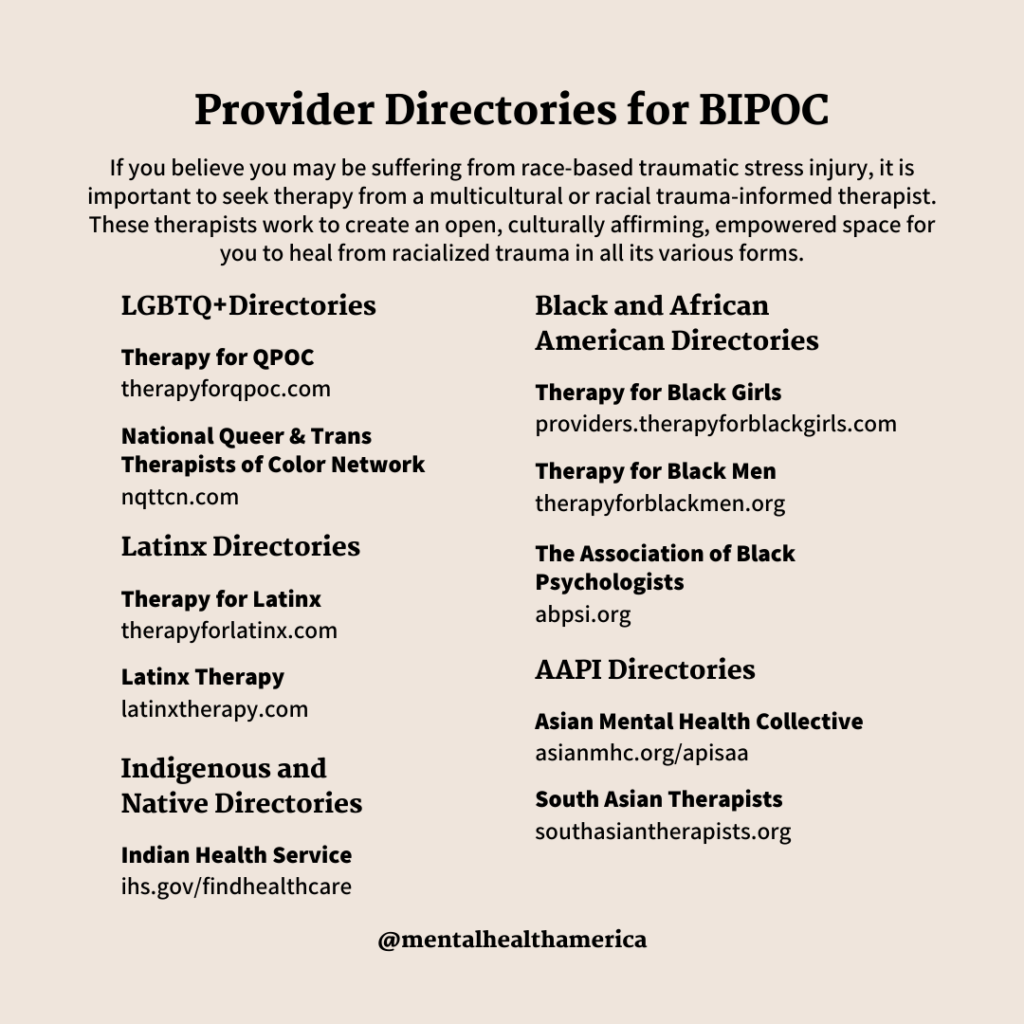 GENERAL MENTAL HEALTH RESOURCES FOR BIPOC

BLACK AND AFRICAN AMERICAN COMMUNITIES

LATINX/HISPANIC COMMUNITIES

ASIAN AMERICAN AND PACIFIC ISLANDER COMMUNITIES

NATIVE AND INDIGENOUS COMMUNITIES
LGBTQ+ COMMUNITIES