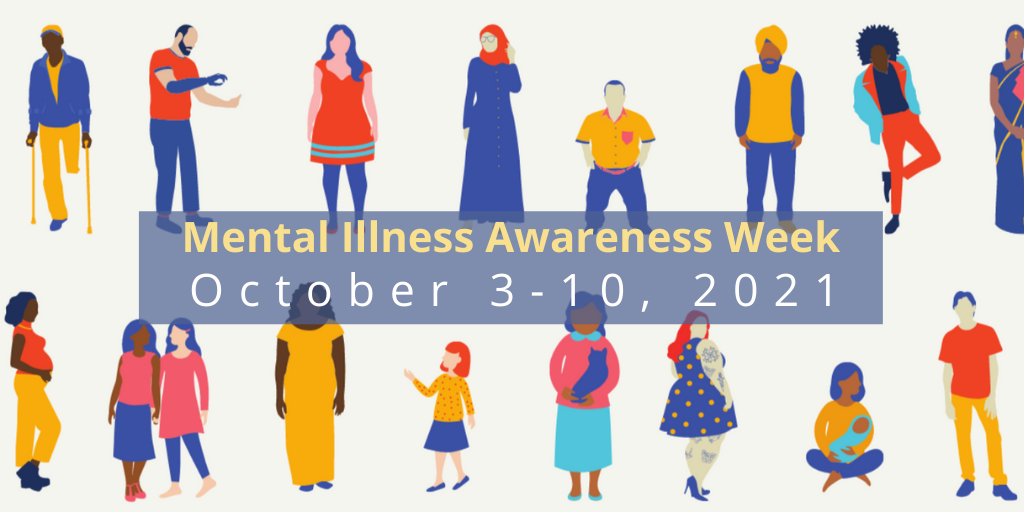 This year for Mental Illness Awareness Week, October 3-10, 2021, we are joining Mental Health America (MHA) to raise awareness of mental health conditions that are often misunderstood. MHA created this theme after listening to our community, where many felt that their diagnoses weren't at the forefront of the mental health conversation.
These conditions include Obsessive-Compulsive Disorder (OCD), Attention-Deficit/Hyperactivity Disorder (ADHD), Borderline Personality Disorder (BPD), Seasonal Affective Disorder (SAD), Dissociative Disorders, Paranoia and Delusional Disorders, and other conditions that don't fit into specific diagnoses – known as Not Otherwise Specified (NOS).
The week culminates in World Mental Health Day on October 10. This year's theme, Mental health care for all: let's make it a reality, offers an opportunity for our global community to reflect on how we can make mental health services and resources accessible to all.
At Mental Health Minnesota, we have free, accessible resources available to help children, families and adults get support for any mental health concern or diagnosis before #B4Stage4 or before a crisis:
Minnesota Warmline – Certified Peer Support Specialists offer free support to anyone struggling with mental health concerns
Mental Health Helpline – mental health resource, information and local provider referrals
833-HERE4MN – licensed mental health providers offer free support to anyone struggling during the pandemic
Obsessive-Compulsive Disorder (OCD)
PRESENCE OF OBSESSIONS:
Common obsessions include: contamination, losing control, physical harm, symmetry, unwanted sexual thoughts
Intrusive and unwanted thoughts, urges, or images that a person can't stop thinking about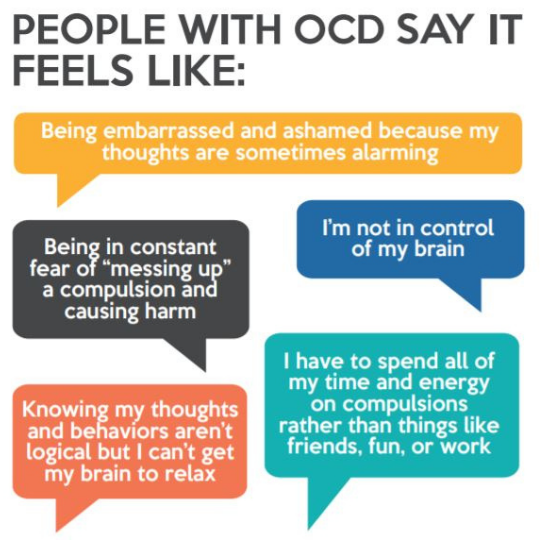 PRESENCE OF COMPULSIONS:
Repetitive behaviors or mental acts that a person feels driven to do, either to reduce an obsession or according to rigid rules
Common compulsions include: washing and cleaning, checking, repeating, counting, reciting a word or phrase
DISRUPTION:
Thoughts and/or behaviors associated with OCD are time-consuming and interfere with daily life
RELATED DISORDERS INCLUDE:
Body dysmorphic disorder
Hoarding disorder
Trichotillomania (hair-pulling)
Excoriation (skin-picking)
---
Attention-Deficit/Hyperactivity Disorder (ADHD)
SIGNS AND SYMPTOMS OF ADHD
People who have ADHD may have all or some of the following signs and symptoms:
In Children: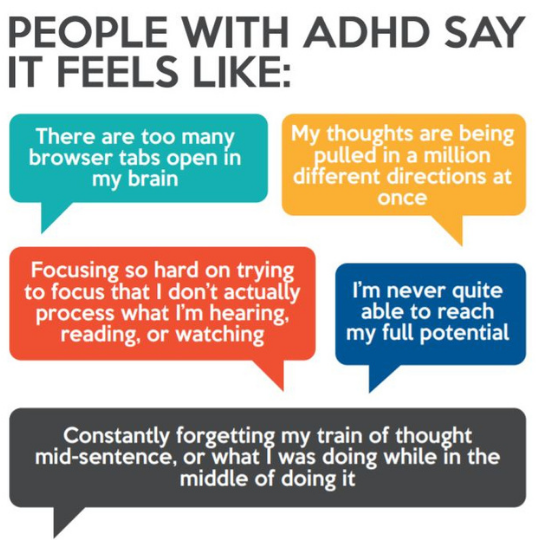 Inattention
Difficulty following instructions
Difficulty focusing on tasks
Frequently losing or misplacing things at school and home
Forgetfulness
Easily distracted or has difficulty listening
Lacking attention to detail or making careless mistakes
Disorganization
Often does not complete homework or tasks
Hyperactivity-Impulsivity
Is fidgety
Runs or climbs inappropriately
Talks excessively
Difficulty playing quietly
Always on the go
Blurts out answers
Has trouble waiting their turn
Often interrupts
In adults:
Distractibility
Disorganization
Forgetfulness
Procrastination
Chronic lateness
Chronic boredom
Anxiety
Depression
Low self-esteem
Mood swings
Employment problems
Restlessness
Substance abuse or addictions
Relationship problems
Rejection sensitive dysphoria (RSD)
---
Borderline Personality Disorder (BPD)
SIGNS AND SYMPTOMS OF BPD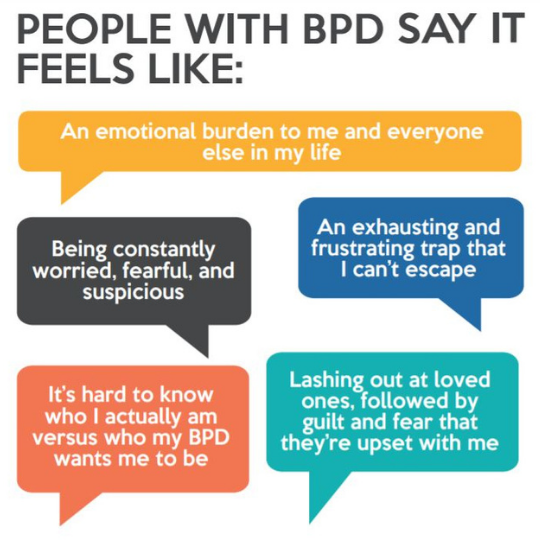 Frantic efforts to avoid real or perceived abandonment
Intense mood swings lasting hours or days
Impulsivity and/or risky behavior
Unstable intense relationships
Self-injurious or suicidal threats or behaviors
Acts of self-sabotage
Chronic feelings of emptiness
Inappropriate, intense anger and rage
Unstable sense of self, including changing goals and values
Dissociation and feelings of detachment
Trouble trusting others
---
Disassociative Disorders
SIGNS AND SYMPTOMS OF DISASSOCIATIVE DISORDERS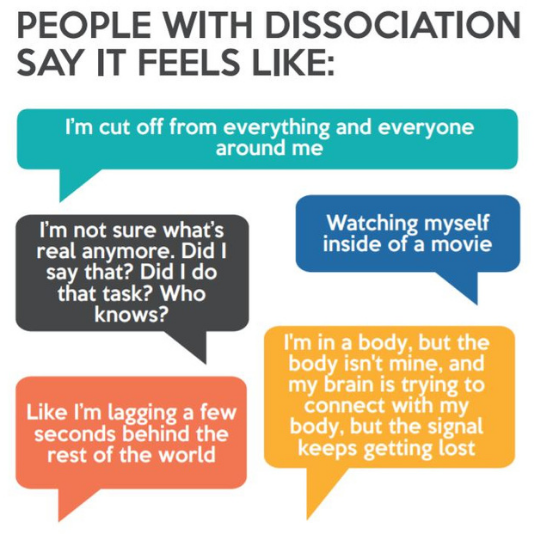 Out-of-body experiences
Feeling like you're a different person sometimes
Feeling emotionally numb or detached
Having an altered sense of time
Trouble remembering personal details
Forgetfulness about things you've said or done
TYPES OF DISASSOCIATIVE DISORDERS
Dissociative Identity Disorder
Dissociative Amnesia
Depersonalization/ Derealization Disorder
Other Specified Dissociative Disorder
Unspecified Dissociative Disorder
---
Paranoia and Delusion
SIGNS AND SYMPTOMS OF PARANOIA AND DELUSIONS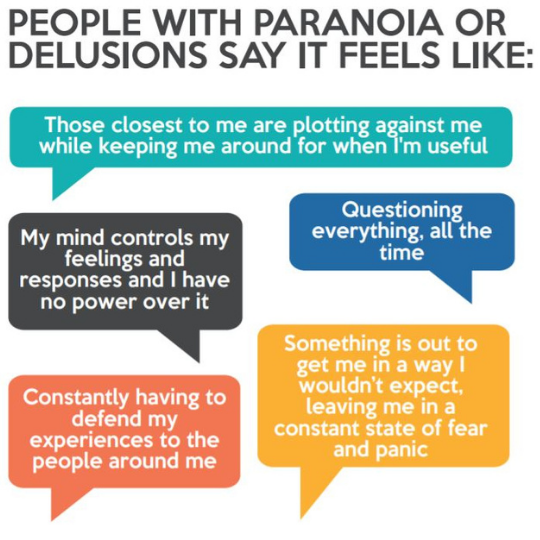 When a person has paranoia or delusions, but no other symptoms (like hearing or seeing things that aren't there), they might have what is called a delusional disorder. Because only thoughts are impacted, a person with delusional disorder can usually work and function in everyday life, however, their lives may be limited and isolated.
People who have delusional disorder may have all or some of the following signs and
symptoms:
Intense and irrational mistrust or suspicion
Hypervigilance
Difficulty with forgiveness
Defensive attitude in response to imagined criticism
Preoccupation with hidden motives
Fear of being deceived or taken advantage of
Inability to relax
Being argumentative
---
Seasonal Affective Disorder (SAD)
SIGNS AND SYMPTOMS OF SAD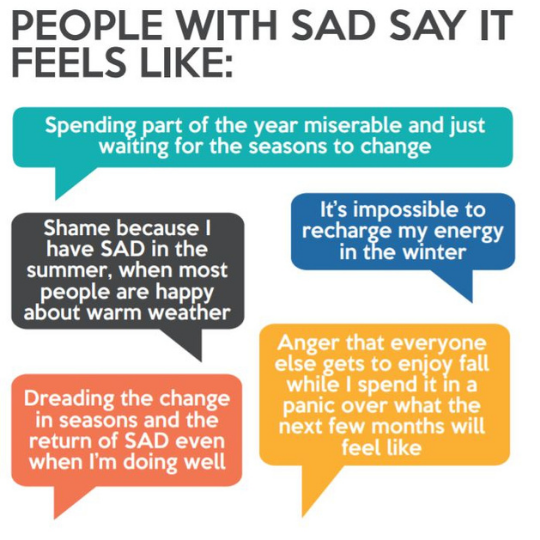 DEPRESSION: Misery, guilt, loss of self-esteem, hopelessness, diminished interest in activities, despair, and apathy
ANXIETY: Tension and inability to tolerate stress
MOOD CHANGES: Extremes of mood and, in some, periods of mania in spring and summer
SLEEP PROBLEMS: Oversleeping and difficulty staying awake or, sometimes, disturbed sleep and early morning waking
LETHARGY: Fatigue and inability to carry out normal routines
OVEREATING: Cravings for starchy and sweet foods resulting in weight gain
SOCIAL PROBLEMS: Irritability and desire to avoid social contact
SEXUAL PROBLEMS: Loss of libido and decreased interest in physical contact